Facebook is huge. No argument there. But so is Google and they definitely have the ability to make the social network thing work. I was inspired by this post on Mashables by Zeny Huang discussing how businesses will benefit more from a Google+ Account then they will from a Facebook one.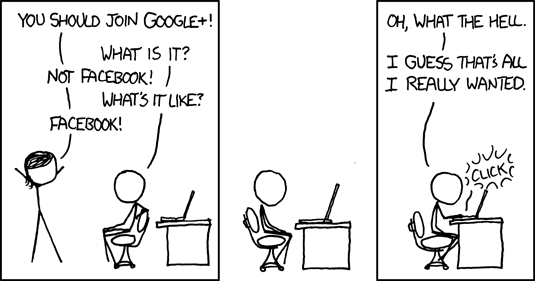 The four points she makes are relivant but it is the last one which stands out in my eyes:
Better search opportunities
More customization
Better analytics
Google can learn from Facebook
When you look at them like this it seems obvious that these are all good points. Google is after all, the search king, and owns the most popular and powerful analytics software on the planet. Customization is also a huge deal to brands who like to promote their… Brand.
What is it though, that Google can learn from Facebook?
Facebook's successes and missteps offer invaluable lessons, giving Google second-mover advantage in creating a brand page based on brands' need for more customization, a hub to aggregate content across the web, strong search presence and user-engagement data.
This is a very vital chance for Google+ because the user base is already full of technology buffs. The next challenge is to convert the masses. And the masses wont change to an unknown system for the fun of it. They will follow their brands. So if Google can coax companies into their new social network, then they can easily get the masses to make the switch as well.
Looking forward to hearing your opinions.